All my books and other Pearson books available via this Web site at a greater discount than online bookstores. Go to
discount book purchase
.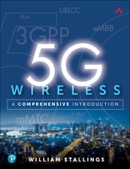 5G Wireless: A Comprehensive Introduction


This book provides the reader with a comprehensive understanding of 5G networks. The book includes the following major parts: an overview that covers
cellular network concepts and 5G standards and specifications
; a detailed descriptions of
applications and use cases
for enhanced mobile broadband (eMBB), massive machine type communications (mMTC), and ultra-reliable and low-latency communications (URLCC); a description of the
5G core network
, covering SDN, NFV, network slicing, QoS, and edge computing: and a detailed coverage of the
5G air interface and radio access network
. Here is the
Table of Contents
and
Preface
. The
Pearson Site
for this book includes PPT slides for instructors.

Useful Links

Computer Science Student Resource Site
: Help and advice for students and professionals.


Errata sheet
: Latest list of errors, updated at most monthly.
If you spot any errors, please contact me at

.


3GPP
: Contains all 3GPP specifications, release schedule, calendar, tutorials, presentations, white papers, and more
. Enter the specification number in the search window to access a specific specification.


ITU-R
: ITU-R
Recommendations
,
Reports
,
Handbooks
, as well as other publications
.


ITU-T
: All ITU-T Recommendations
.


ETSI
: Standards and other documents
. The
5G section
of the web site provides relevant links plus pointers to ETSI standards related to 5G.


Next Generation Mobile Networks (NGMN) Alliance
: Useful collection of technical documents, including the two influential White Papers
.


5G Infrastructure Public Private Partnership (5G PPP)
: Excellent collection of white papers and other documents from this EU organization.
.


5G Americas
: Another good collection of white papers and other documents
.


GSMA 5G Resource Page
: Documents, videos, and a number of other useful resources
.


O-RAN Alliance
: O-RAN is developing an architecture and open specifications for Intelligent, Virtualized and Fully Interoperable RAN
.


Small Cell Forum
: Large collection of documents related to the deployment and use of small cells in various environments.
.


LF EDGE
: An industry consortium building an open source framework for edge computing. Large collection of useful documents
.

5G Alliance for Connected Industries and Automation
: White papers dealing with 5G and industrial automation
.


Global mobile Suppliers Association (GSA)
: Good collection of white papers
.


Critical Communications Association (TCCA)
: White papers, webinars, and other resources related to 5G critical communications
.


National Institute of Standards and Technology (NIST) 5G & Beyond
: A set of projects supported by NIST to provide related to measurement, calibration, and channel modeling approaches and technologies used for mmWave and submillimeter-wave frequencies
.


5G Resource Center
: Good collection of white papers, videos, and articles from a business-oriented site
.