All my books and other Pearson books available via this Web site at a greater discount than online bookstores. Go to
discount book purchase
.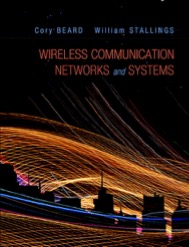 WIRELESS COMMUNICATION NETWORKS AND SYSTEMS (with Cory Beard)

A brand-new book, completely revised, updated, and expanded from the old Wireless Communications and Networks. This is A comprehensive, state-of-the art survey. Covers all types of wireless communications. from satellite and cellular to local and personal area networks. The title conveys a focus on all aspects of wireless systems – wireless communication techniques, protocols and medium access control to form wireless networks, then the deployment and system management to coordinate the entire set of devices (base stations, routers, smartphones, sensors) that compose successful wireless systems. Along with the content, the book provides over 150 animations.

ONLINE RESOURCES


STUDENT RESOURCES: a list of relevant links organized by chapter and an errata sheet for the book. Coming soon.


PREMIUM CONTENT: additional online chapters, additional online appendices, and a number of other supporting documents. See the card at the front of this book for access information.


PEARSON RESOURCES FOR INSTRUCTORS: includes solutions manual, projects manual, PPT slides, and testbank.
If you have any suggestions for site content,
please contact me at

. In particular, please pass along links to relevant web sites and links to course pages used by instructors teaching from this book.